CHM-T36VA Pick N' Place Machine
CHM-T36VA Pick N' Place Machine.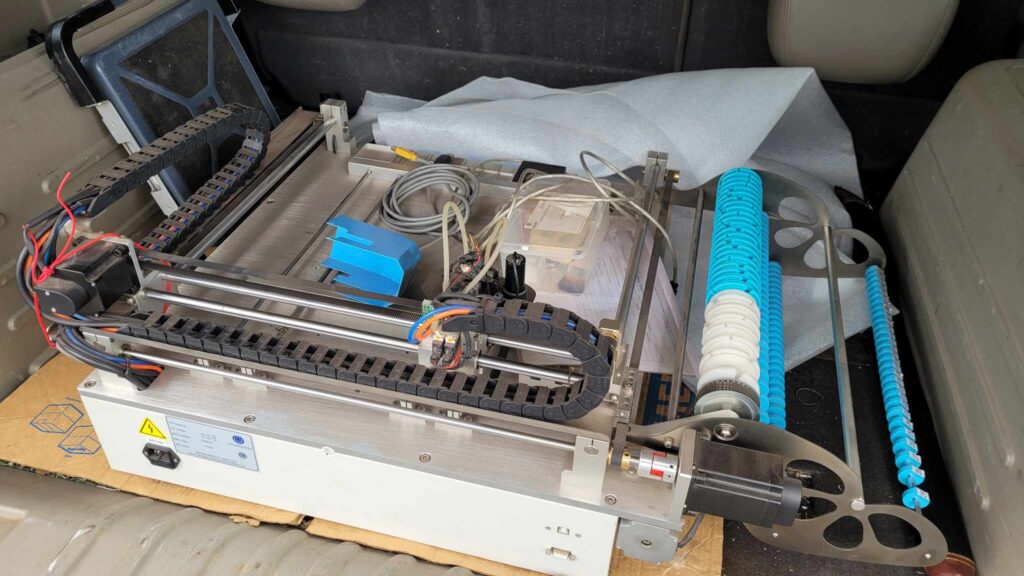 Specifications of of the Charmhigh CHM-T36VA Pick N Place Machine.
Around 7-8 months ago, I stumbled upon a Charmhigh CHM-T36VA Pick N' Place Machine on an online marketplace. Despite numerous messages to the seller, there was no response. Determined to get in touch, I took proactive steps. I ran a background check, scoured social media platforms like Facebook, Instagram, Twitter, and I even messaged his friends, contacts, and relatives. Unfortunately, none of them were willing to assist me in reaching the seller.
Through the clues from my conversations and gathered photos, I began to suspect that the seller might be acting on behalf of an employer. Delving deeper into the matter, I found a photo on the employer's website that suggested a connection to a PCB reworking department. I tried reaching out to them via all available public emails but received no reply. Unwavering, I made another attempt, and this time, I received a kind response stating they would investigate the situation. Awesome!! Getting some place.
After about a week, I received confirmation that the seller was indeed an ex-employee, and they assured me they would check if the machine was still available for sale. A few days later, an email arrived confirming it was still for-sale inviting me to come and pick it up during business hours. Without hesitation with in an hour of the e-mail, I hit the road for the hour-long drive and had the machine paid for and loaded up within 3 Hours of receiving the e-mail that it was available.
The Drive There.
Live Stream
The Drive Back.
Live Stream
All Loaded Up…
Unloaded..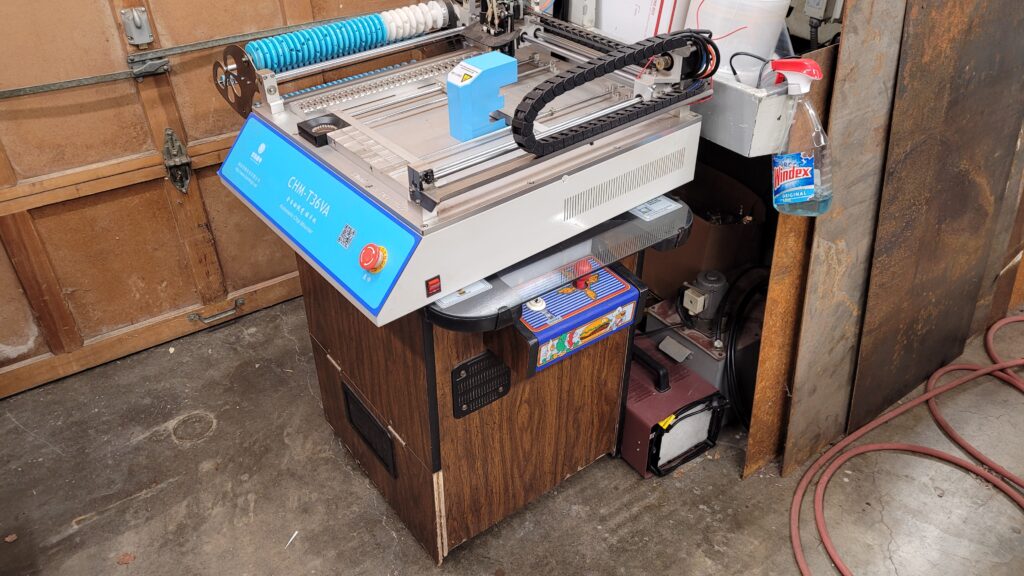 Some PCB's Fitted.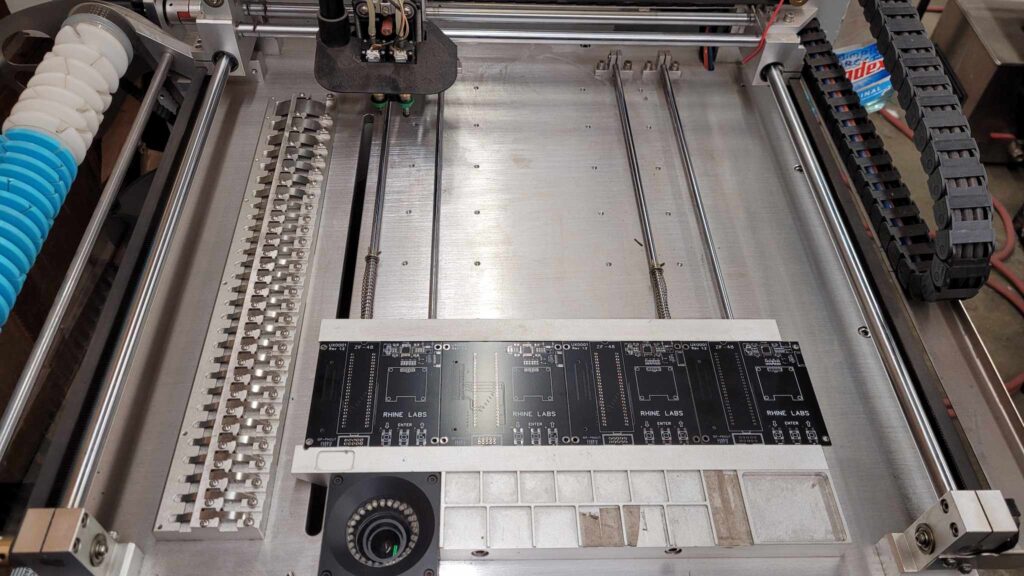 Paperwork:
Packing List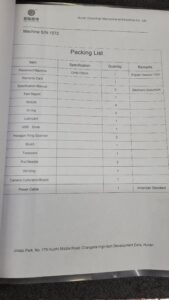 Factory Test Report: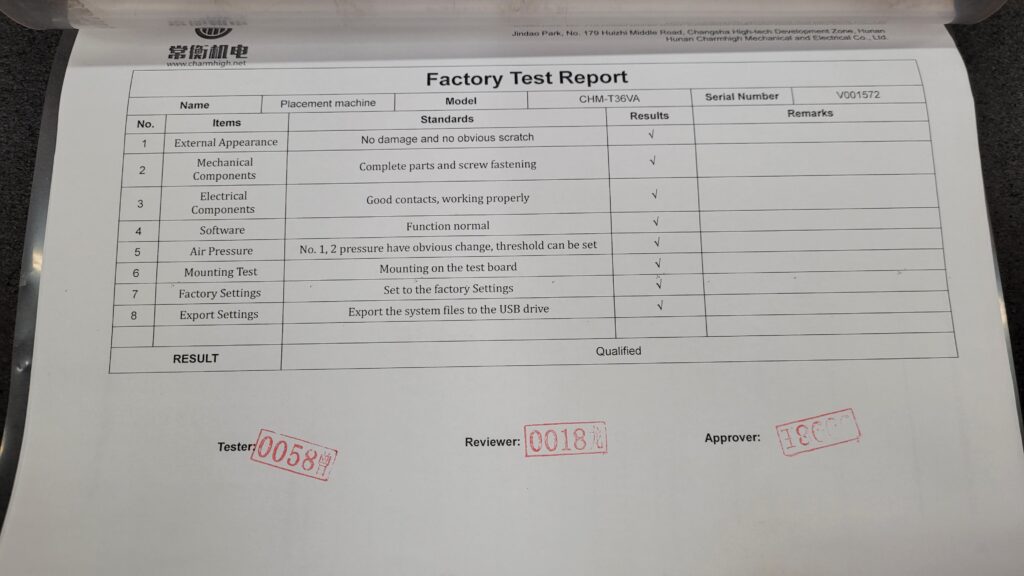 Accessories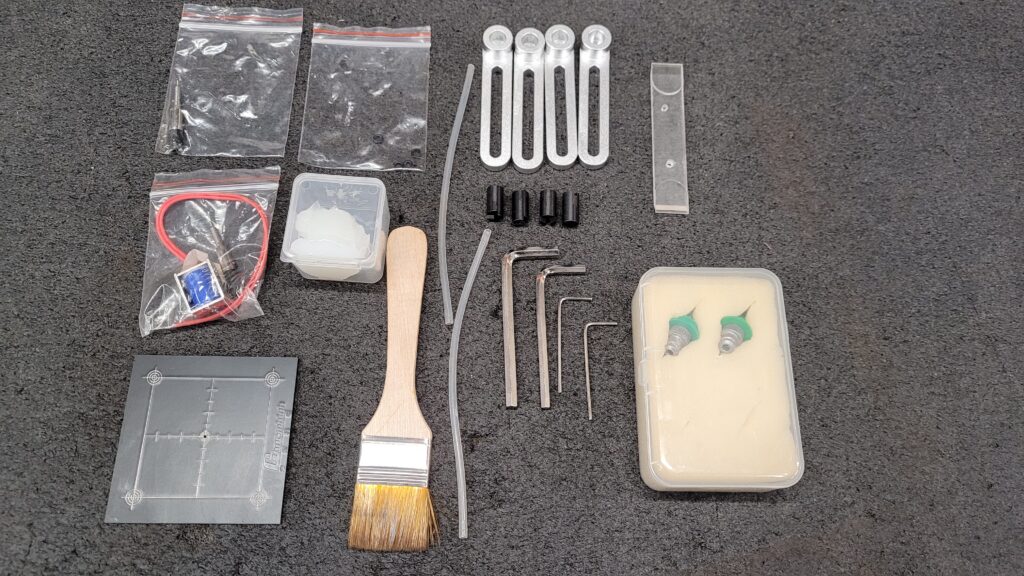 You can get the Software Here , Aliexpress Store,
Maybe do an Openpnp Conversion? This seem to Be a Thing with these. Check this CHMT36VA Openpnp Conversion Out and this one.
I have successfully installed V3615, but unfortunately, V3617 failed to launch, showing only an empty error box. Nevertheless, I haven't connected the machine yet.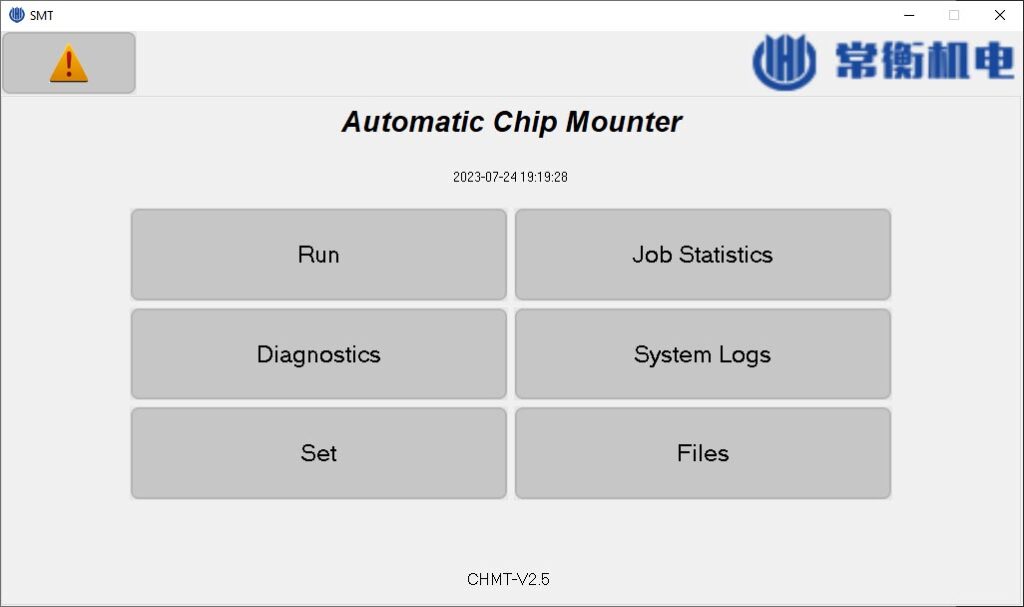 I was able to get the software to launch. Steps taken.
Edit the serial.ini and smt.ini files, directing them to your specific comport (communication port)
Connect the machine using both the serial and USB interfaces. "serial for machine communications and the usb is for the cameras"
Launch the software after configuring the ini files accordingly
Ensure you have a valid LICENSE.smt file corresponding to your machine's serial number. This file is essential for the machine to function, I do not have a LICENSE.smt file for my machine. I messaged seller if they had a back up of it (Awaiting Response)

I have messaged the manufacture to obtain a replacement file.  July 26th The seller was able to recover the LICENSE.smt file for me.
If Charmhigh does respond to my replacement request I will update the blog on the procedure request the file.
Request Update: 07-02 I messaged CharmHigh on Amazon they go by "CNCBASE Inc."  asking where to get replacement software and sent a photo of machines serial # and a Lisa Responded she sent a link to  Zip file with my Serial # containing the current software including the LICENSE.smt for my machine also. 100% outstanding after sale service!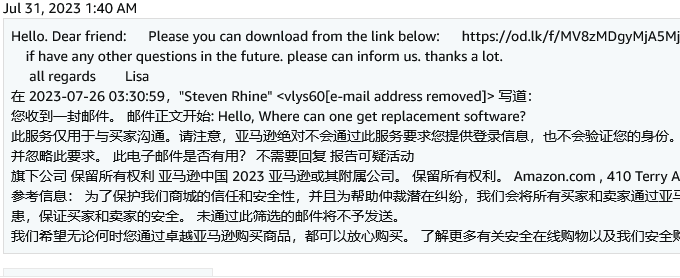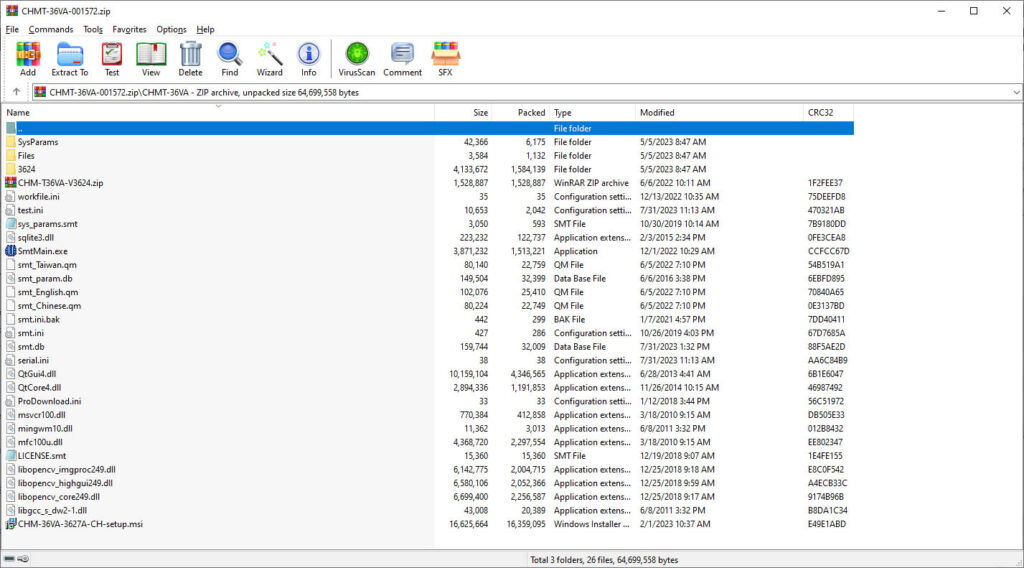 It's wonderful that someone responded to one of my message and provided the data. Maybe the other message to direct e-mail got lost in translation?
July 26th the First Movements I know shops a Mess and Doing this on a cart is not smart but had to get it near the PC did not have long enough cables.
Regardless, After some research and stumbled upon on the Desktop Pick and Place Google Groups I came across an intriguing piece of information—a mention of someone creating a Charmhigh CHM-T36VA LICENSE.smt generator. To use it, I'll need to obtain the STM32F407's Device Electronic Signature which is a hard coded Unique device ID register, which consists of 96 bits. Although I couldn't find anyone who has tested it yet, If, I feel determined I may take on this challenge myself just to see if it will work and write up how it is done if it works.
Software
Took a while to find but To get in to the set menu the default password is 123456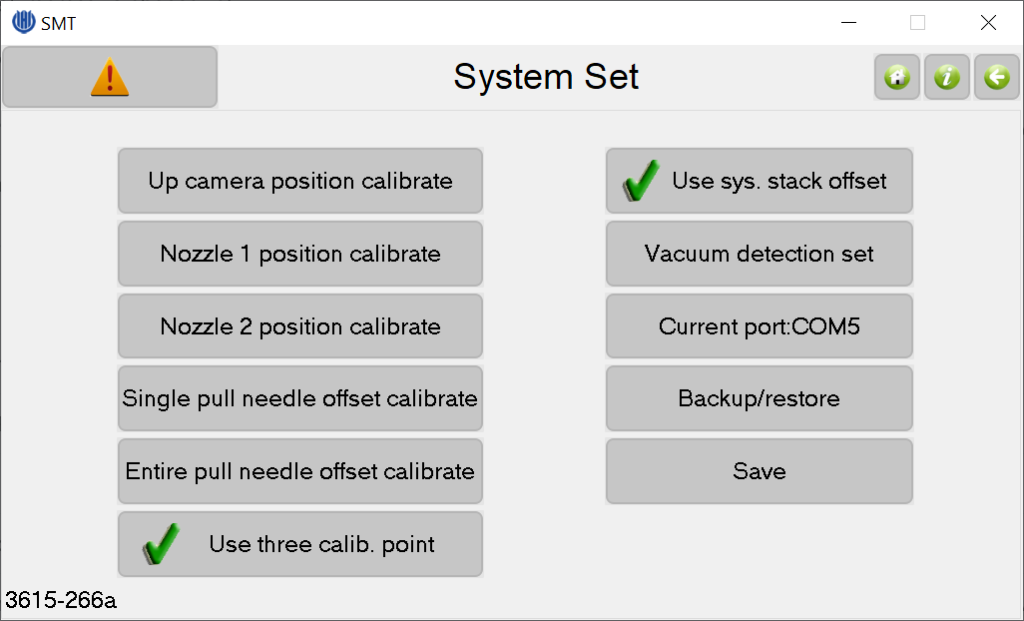 I checked the Camera's and they Both Seem to Be Working. You Toggle Up/Down Up Camera is Black and White.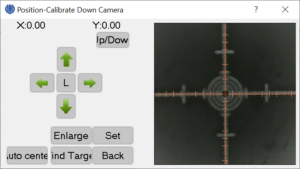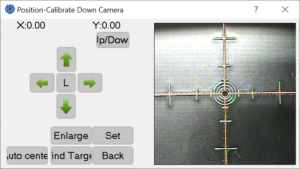 Head 1 and 2 Calibration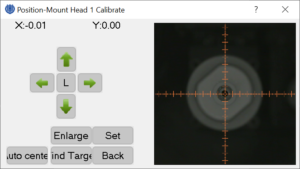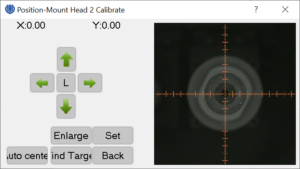 More Info Soon……
stm32f407zet6