They Cut My Bacon! 12-18-2017

on
December 22, 2017
at
23:50
This makes Surgery #5 since Mid October 2017 the other 4 were Small in Office Procedures… But 100% necessary the strip mall clinic doctors should have done the previous 4 minor ones years ago they just did not want to listen!  As of 12-17 I was already feeling much better!
I been waiting a few years and finally the long anticipated day arrived, I got my Umbilical Hernia Repaired!
Mine was Small and on occasion it would drop me to my knees with out warning mostly if Lifting heavy objects above my head, pushing or pulling the Airplane!
FYI My Blog Posts Will Be At a Snails Pace Again… I Will Try and Find Little Projects Like Product Tear-Downs Etc.  that do not require lifting anything more than 10lbs or Pushing, Pulling, or Squatting for the Next 6 Weeks.
Just Out of Surgery….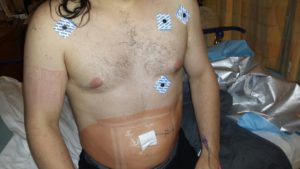 When you tell the Doctor You are Allergic to Codeine, Vicodin & Percocet and He Prescribes you Oxycodone which is the active ingredient to Percocet…. Thing Don't go so well… As a Matter of Fact! About 2 hours in to the 2nd Dose I am Calling Surgeons Office letting them know I am having a negative reaction sweating and starting to itch a whole lot. I Was told to continue taking and take some benadryl?
Well, 15min as i got up went to Urinate total K.O. I woke up on the floor, I got to See 5 Firemen, Right Arm Got Impaled, A Couple Bumps On My Head and Twisted my leg/sprain foot & ankle "feels like it's broke" about 7 hours after surgery.  I Just cannot win!!! I was hoping for a simple smooth recovery.
Just out the the Ambulance for a Loss of Consciousness/ Fall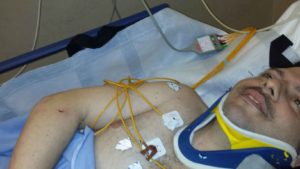 The Impalement!!! Loos Like a Tooth Pick it is Not!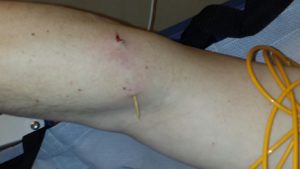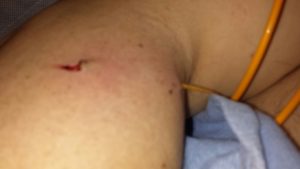 Came From the Bathroom Cabinet Hit just the Right Spot and Direction! To Impale it in to my arm!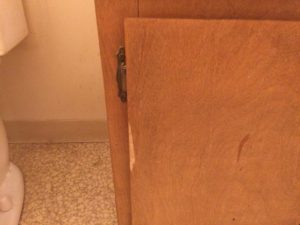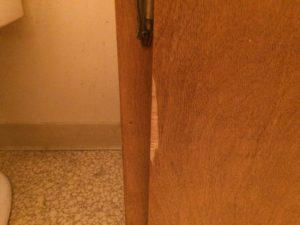 After Spending the Night in the ER with very unfriendly doctors, nurses, tech & security.  My Surgon gave me What I know and what i told him i could take for pain control that has no Severe Reaction, I am Doing Well & healing. Just Hunched Over and Hobbling but Steadily Improving!
They said it would be painful, they were not kidding. I hope the rest the recover goes well!
I hope after my recovery that blog content will improve. I will try and find small things to post about like tear-downs etc.