Baofeng UV-5R for $2.99 + Tax
The pesky Social Media Ad's for the Baofeng UV-5R for $2.99 + Tax Total $3.24
I was searching for a battery for mine as it went flat after many many years of abuse.
Social media tracking algorithms actively targeted me with Baofeng ads. Every other post i scrolled past seemed to promote the offer of getting a Baofeng UV-5R for just $2.99.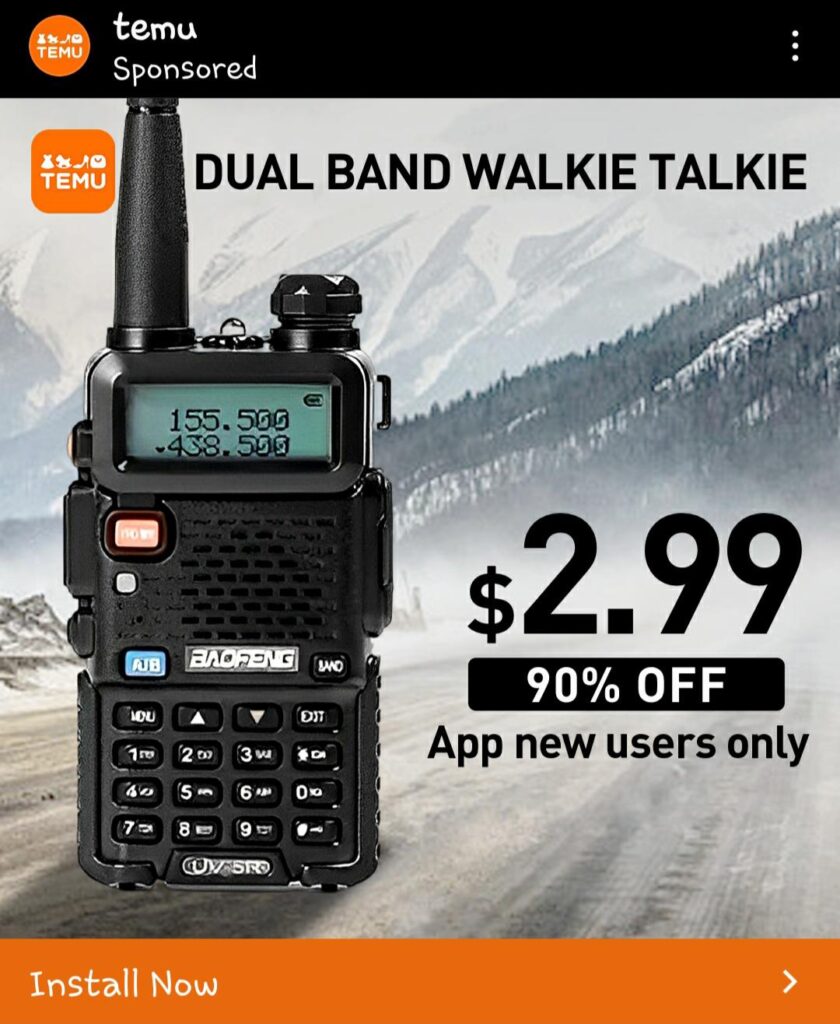 Initially, I suspected it was clickbait or a scam. However, I took action, Using a old android burner phone that i use to install these shady apps on without risking to much of my my personal data. I downloaded the app, the total cost came to $3.24 after tax. Then, I patiently waited for the delivery, which surprisingly only took about 8 days to arrive from China to my doorstep.
Unboxing Video (Looks to have Been Opened Enroute)
Old Radio Was Purchased December 2012


Wight Of The Old #BaoFeng and New Baofeng Radios. 2 Grams Difference.
Aug 9th 2023 TEMU is at it Again.. Blasting this everywhere!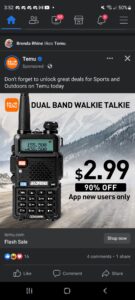 This time I Shared The Advertisement. (YMMV)
This time was a $15.00 Min Order so I searched some items i had in the jungle store shopping list that i was going to buy sooner or later.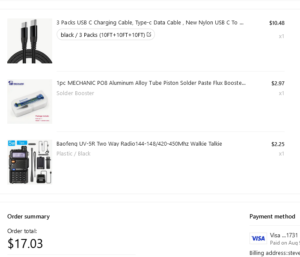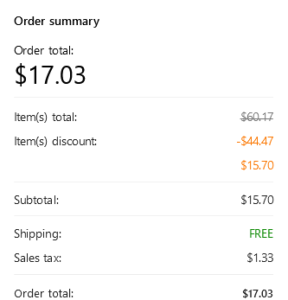 Got me for 17.03!!! Lets See if it arrives.
Aug 9th 2023 A 3rd One Same Shyared Advert But a Different Promo Was Generated? Buy 5 Items and 2 are free. The Baofeng and Amp Was Free Order Total was $16.84 In Other Items.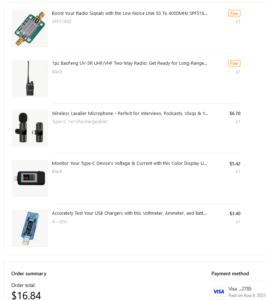 Both Order Have Shipped Should Arrive The Same Day.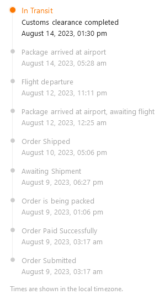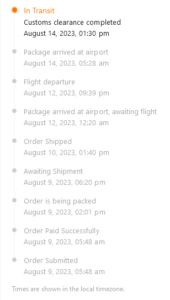 Order Arrived 08-17-2023
Unboxing Video
Here they are one has a Green Label one has a White Label??