California SB244 Right to Repair Complete 09/13/2023
California SB244 Right to Repair Moving Forward As I Get the Time I will Follow this closely now that is nearing the end.
On Sept 1st 2023 California SB244 Right to Repair Bill Had its Suspense Hearing Reflectivity Moving it Forward, Pass and  Out of Committee.
Form My Understanding there will be 1-2 More Readings then Sent to For a Vote? And if Passed A Governor Signature.
September 6th On the Schedule (Skipped)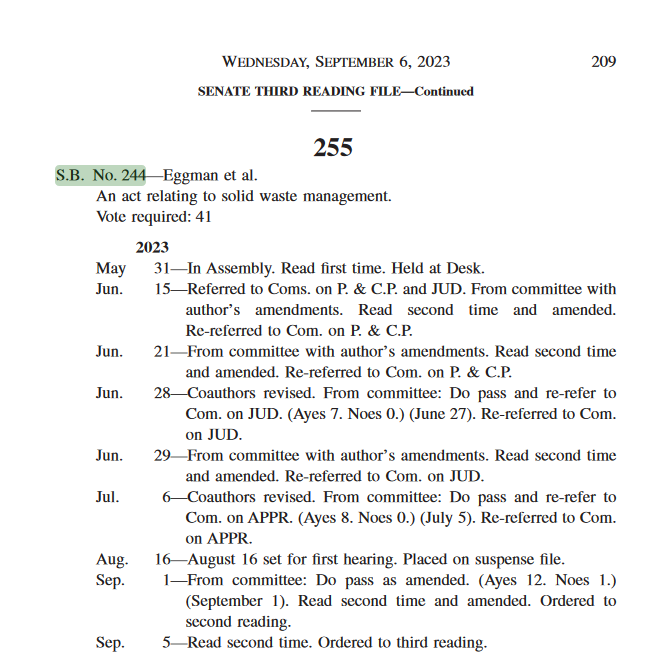 On Schedule Again For September 7th 2023  (Pass Temporarily / Amendment / Third Reading)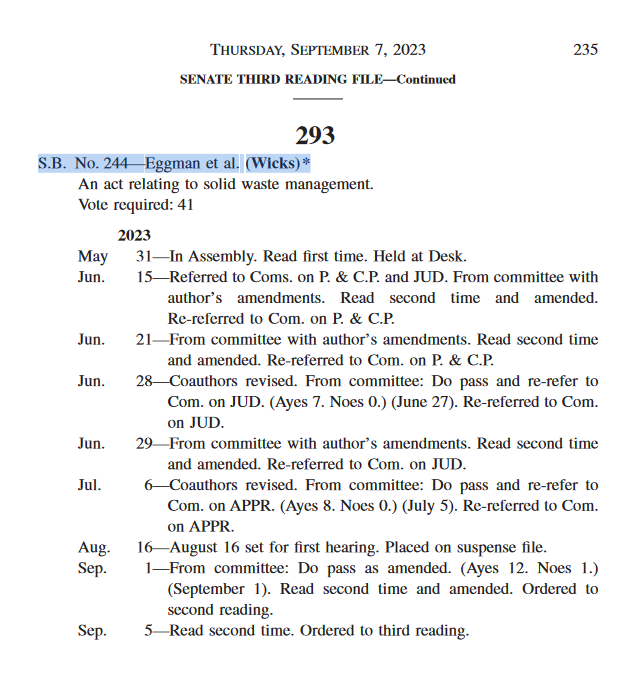 Learning California Political System
Reviewing the California assembly agenda and video for Wednesday, September 6th, it appears that individuals listed with an asterisk (Name)* next to their name and bill number had the respective agenda item read by them or amended and subsequently voted on during the September 6th session.
Tomorrow, at 10 AM prob more around 11 AM on the September 7th agenda, it seems they are set to discuss amend and/or vote on S.B. No. 244, sponsored by Eggman and others, with assembly Person Buffy Wicks (Wicks)* as the presenter.
September 7th 2023 Looks to Be a Last Min Amendment. Lets hope it don't get a Poison Pill.
Pass Temporarily
A measure temporarily skipped on the agenda. If the bill's author does not take up the measure by the end of the day, it may be passed on File or passed and retained, keeping its place on the File by unanimous consent.
The September 7th amendments sound like they were written by apple this will only help large manufactures avoid providing repair documentation.
(k) This section shall not apply if the manufacturer provides an equivalent or better, readily available replacement electronic or appliance product at no charge to the customer.
They added an effective date no longer Jan. 2024.  (l) This section shall become operative on July 1, 2024.
California SB244 Was amended and is on the schedule for September 8th for a third reading and Floor Vote. (Skipped) I think it has to be published 24 hours before a vote.

California SB244 is on the Schedule once again for Monday Sept 11th 2023 Only 4 session Days Left For them to Pass the Bills and Present to the Governor. The  Good thing is no more amendments. California SB244 was not amended nor was it read and voted for on Friday Sept 8th so the bill as written is what its going to be. I don't think California allows the governor to change it once passed like NY will either sign it or veto. Lets hop he signs it.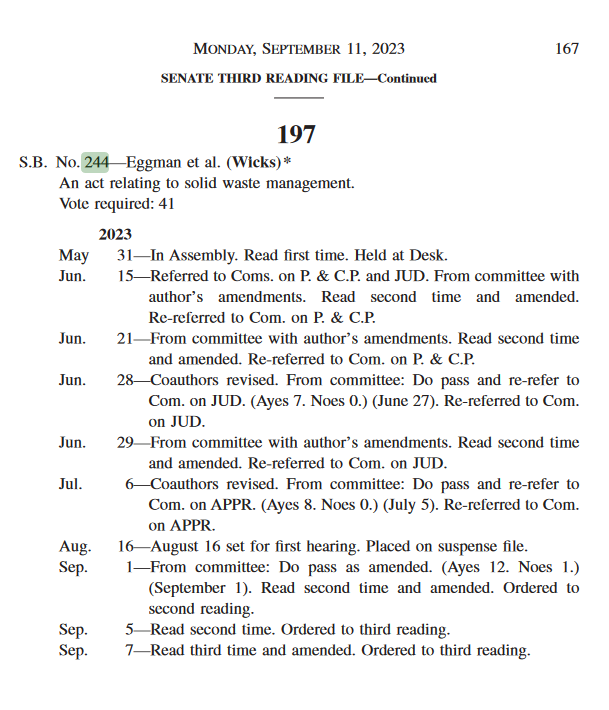 Was skipped on September 11th 2023 on the Schedule for September 12th 2023

Great News, September 12th 2023 California SB244 Passed and is Headed to the Governor For a Signature.
Bill As Passed.  https://leginfo.legislature.ca.gov/faces/billCompareClient.xhtml?bill_id=202320240SB244&showamends=false
Update!!! SB244 Right to Repair Bill was not change from the amendments added September 7th and Passed Concurrence 39-0 1 Not Voting at about 4:47pm on 09-13-2023 officially off to the governor. He has 14days to Sign, Not Sign or Veto.

My understanding is there can be no more changes, The Bill will become law as amended September 7th 2023.
The Governor has three choices. The Governor can sign the bill into law, allow it to become law without his or her signature, or veto it. A governor's veto can be overridden by a two thirds vote in both houses. Most bills go into effect on the first day of January of the next year. Urgency measures take effect immediately after they are signed or allowed to become law without signature.
Sep. 5-14 —Floor session only. No committee may meet for any purpose, except Rules Committee, bills referred pursuant to Assembly Rule 77.2, and Conference Committees (J.R.61(a)(12)).
Sep. 8 —Last day to amend on the floor (J.R. 61(a)(13)).
Sep. 14 —Last day for each house to pass bills (J.R. 61(a)(14)). Interim Recess begins upon adjournment (J.R. 51(a)(4)).
Oct. 14 —Last day for Governor to sign or veto bills passed by the Legislature before Sept. 14 and in the Governor's possession on or after Sept. 14 (Art. IV, Sec. 10(b)(1)).
Generally How it Play Out On Passed bills. Sometimes there is a hold up Fingers crossed it don't get shelved
2023-09-01 Assembly From committee: Do pass as amended. (Ayes 12. Noes 1.) (September 1)
2023-09-01
Assembly Read second time and amended. (Ordered to second reading. Tuesday Sept. 5th)
Current Status!
2023-09-05
Assembly Read second time. Ordered to third reading or could be Ordered to the Consent Calendar or Senate
Assembly Read third time. Passed. (Ayes 1. Noes 0.) (September 6-14) Ordered to the Senate
Senate In Senate. Ordered to engrossing and enrolling.
Enrolled and presented to the Governor at 2 p.m.(Seems to Always Be 2pm)
Approved/Veto by the Governor. (Average time 5-7 Working Days History Shows Tuesdays/Thursdays From Being Presented)
Chaptered by the Secretary of State. ?
Lets Cross Our Fingers That This Sails Thru… And California Join Minnesota as a Right to Repair  State.
Related California SB244 News,
I don't think i can do a bill watch again. Took way to much of my time. I got way behind on work/projects. If you appreciate my efforts please donate.