Hakko FM-202 Soldering Station Partial Teardown & Card ByPass VS Hakko FX-951
Hakko FM-202 Soldering Station Partial Teardown & Card ByPass VS Hakko FX-951
The Partial Teardown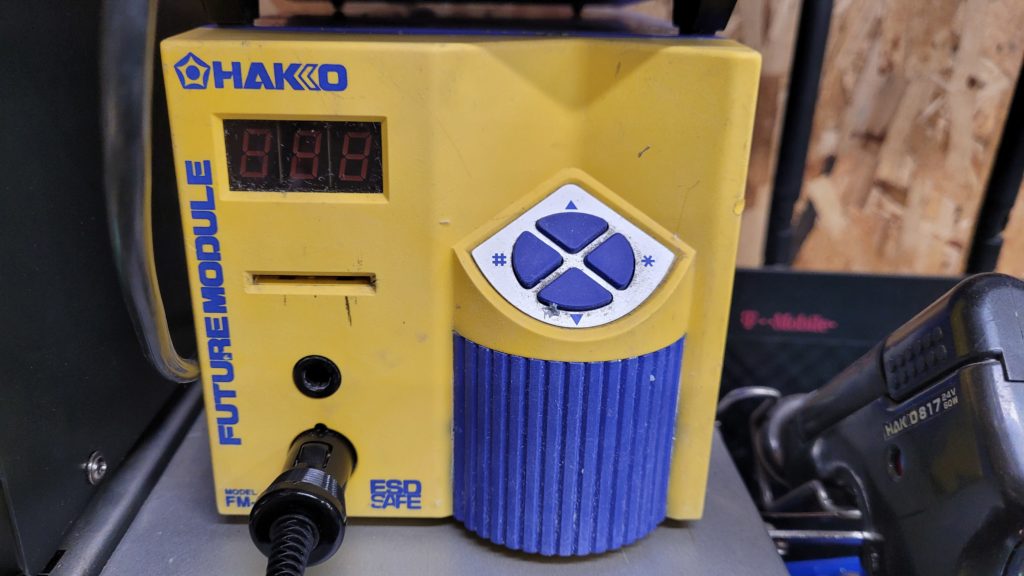 I Pulled the Cover For Some Fall Dusting And a Quick Inspection of My FM-202's!
Cover Off! (Cables Removed For Photo)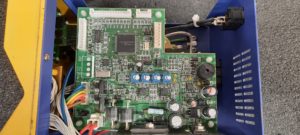 Main CPU Renesas M38039FFFP  (Data Sheet) CN8 Is an 8 Pin Programming Header.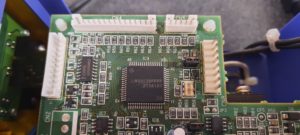 Data Sheet Info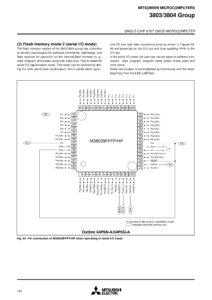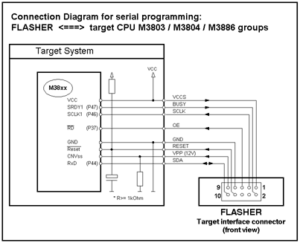 CN8 Programming Header Pinout:
Header Pin = M38039FFFP Pin / " M3803 Group Flasher 5 Pin"
Pin 1 = Pin 12  P47/Srdy1 / (Busy) / "Pin 2″
Pin 2 = Pin 18 CNVSS (VPP) / "F5 Pin 9″
Pin 3 = Pin 57/24 VCCS/VSS / "F5 Pin 1″
Pin 4 = Pin 13 P46/sclk1 (SCLK) / "F5 Pin 3″
Pin 5 = Pin 15 P44/RxD1 (SDA) / "F5 Pin 10″
Pin 6 = Pin 49 P37/Srdy3/RD (OE) or (CS) / "F5 Pin 5″
Pin 7 = Pin 19 RESET /  "F5 Pin 8″
Pin 8 = Pin 59 P30/DA1/AVSS /  "F5 Pin 7″
Software Version Info By Serial # Can Be Found Here.
I wanted to use a recently acquired FM-2024 with my FM-202's and seen this notice on Hakko web site. So I called Hakko.

I was Informed by Hakko USA That firmware is not available from hakko for a self update/recovery. Hakko will update the firmware for you on a working unit at no cost ($10 Bench Fee now in 2021) Hakko will even send you a label to send the unit to them and even cover the return postage. You cannot beat the type of customer service Hakko provides for a device that has been discontinued for almost 14+ Years. So I sent 2 of my units off to be updated. The upside you will receive back a updated and fully inspected unit that is good to go. The down side is it takes about 2 weeks total so be prepared to be without the Soldering Station for about 2 weeks or a little more.
On the other hand, If your device's micro-controller is dead, you're in trouble. Hakko's policy is a harsh "F-U" to its customers, as they are forced to buy a new device or a Replacement PCB (Never In Stock) and if it was costs more than a new device, instead of offering affordable repair options such as a pre-programmed microcontroller at a reasonable price hakko offers their customers a  big F_U no way and it now been herd around the globe. It's disappointing to see a lack of support for the Right To Repair from a top company that produces electronic repair tools in mass. This approach to customer service is simply bad business and is very anti-repair.
Seeking a firmware recovery solution for a Broken FM-202.

Oh joy! I have a few FM-202s with the fancy double top secrete updated firmware. Now, let's make a backup for repair purposes. Because we all know how much fun it is to have a device go kaput without any support form the manufacture. That's been recycling the same design over and over. Also, who needs the frustration of dealing with an anti repair manufacturer which hakko is when we can take matters into our own hands? So that' is what we will do!
My Xeltek Superpro 6100N Universal Programmer can program the Renesas M38039FFFP with a DX3044 or DX3013 Adapter. However, it does not support in-circuit programming for this device and according to Xeltek, the M38039FFFP will not be supported for in-circuit programming due to hardware limitations :(.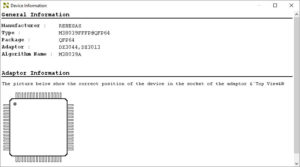 09/2022 Although I intend to back up the firmware of my FM-202's, I keep forgetting to order the adapter when I buy other adapters. Frankly, it's not a priority right now, especially since I have already upgraded to the current models. Nevertheless, I recognize the importance of having a backup in case one of my other units fails. Therefore, I commit to ordering the adapter as soon as possible and initiating the backup process.
As an Alternative It appears that only the Segger Flasher 5, which is now obsolete, supports in-circuit programming. Sadly, I have been searching for reasonably priced one on eBay, but I always seem to miss out on them.
Exciting news on the firmware recovery front! As of January 2023, I finally found a Segger Flasher 5 on eBay for a great price. After extensive searching and missing out on previous opportunities, I couldn't believe my luck. With this device, I can now perform in-circuit chip programming on my Hakko FM-202 soldering station, which had previously been impossible due to Hakko's anti-right to repair stance and lack of self-update options.
I'm thrilled to have this new tool in my arsenal of device programmers, and I can't wait to start experimenting with it. The Segger Flasher 5 opens up a whole new world of possibilities.
Overall, this experience has taught me the importance of persistence and patience when it comes to finding the right tools and resources for a project. Despite facing numerous roadblocks and obstacles, I never gave up on my search for a solution. And in the end, my perseverance paid off with this incredible find on eBay. I can't wait to see where this new device takes me in my ongoing journey to repair one of my Hakko FM-202 soldering stations.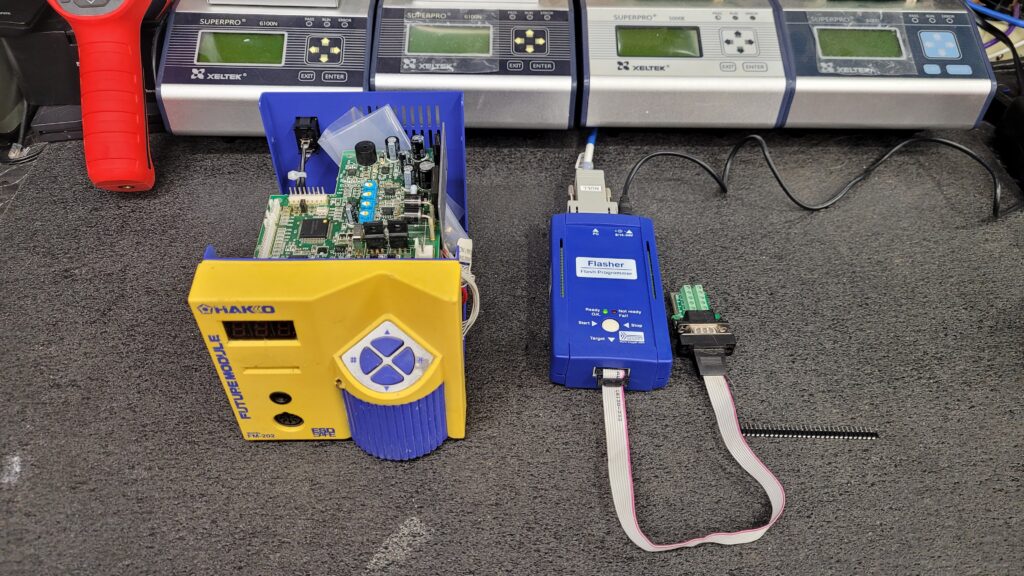 Unboxing Flasher 5 On Youtube, This is an older Flasher 5 Programming tool for ST9 and Renesas M16C/20, M16C/62, M16C/80, M38 and M79 series of flash microcontrollers in serial mode I wish it was a Rev 3 But you get what you can get when you can get it.
Segger Flasher 5 With Current Software form Segger Immediate Update Required I Could Not Locate Any Info on FW V 1.74A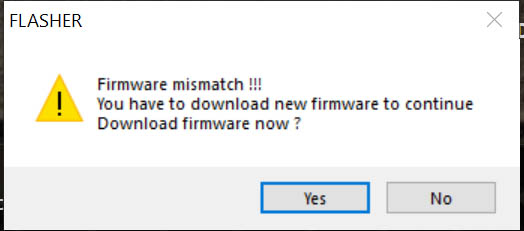 It Downloaded and Updated to Firmware Version 2.16 to the Flasher 5 and I Was Able to Select the chip. Received info that this chip Requires a Higher Voltage.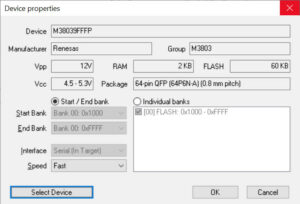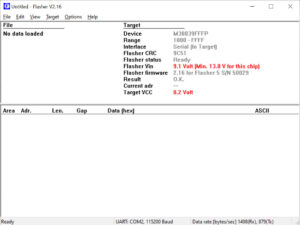 I grabbed a 16V Wall Wart From the bin and Bam things are good and Ready to Make the Cable to the ISP Header.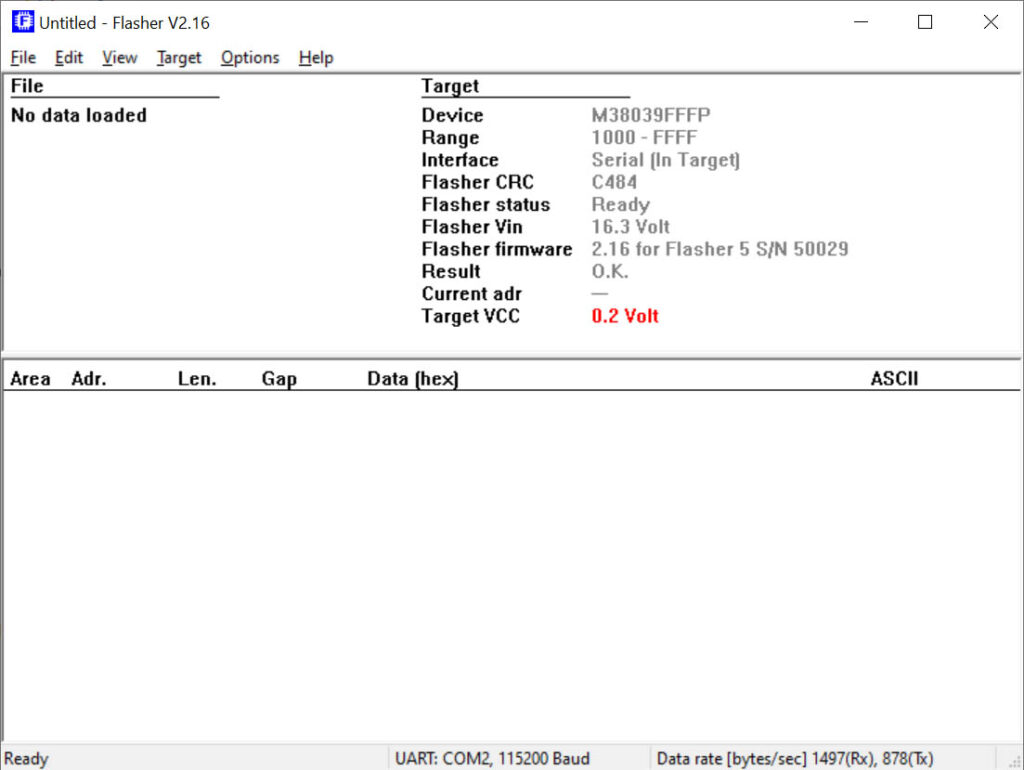 I am eagerly anticipating the opportunity to dive back into this firmware recovery project when I have the time. I can't wait to pick up where I left off.
August 7th 2023 I Successfully Backed Up the Hakko FM-202 Soldering Station Firmware.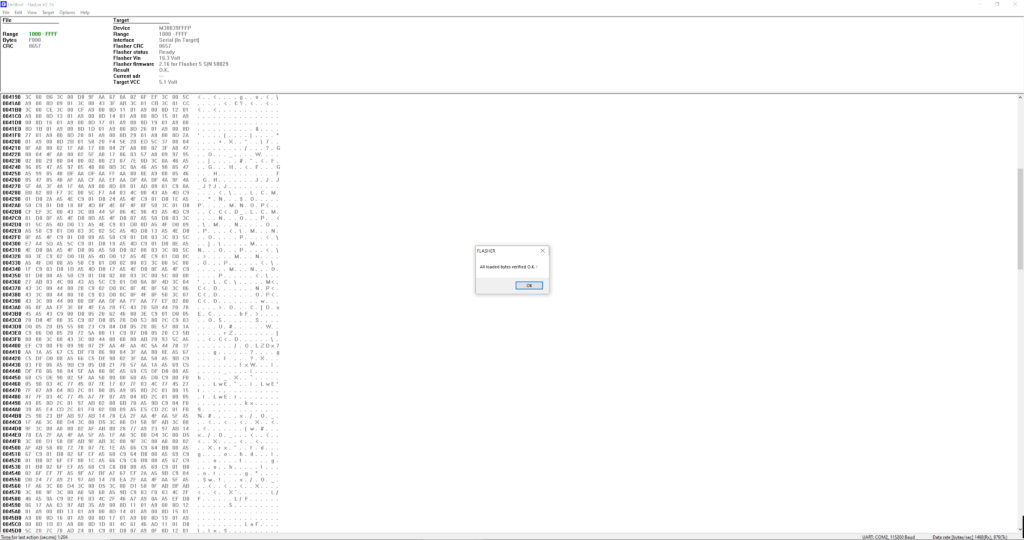 Mains Section 12V Regulator and Rectifier (Should Freshen up Thermal Paste When Needed)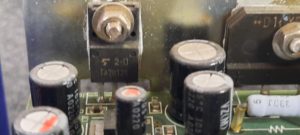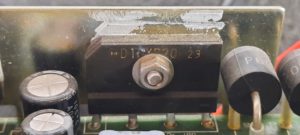 Dual Mosfets 2SJ493 (Data Sheet) Flapping in the Breeze (Check Here For Cracked or Poor Connections)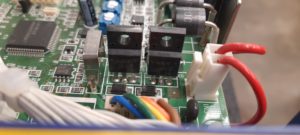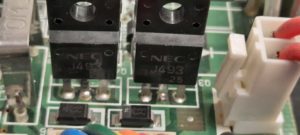 So Far I have seen 2 PCB Revisions.
Hakko M0773-A11 PCB (Alt Hakko 777-158) (Dead PCB Hakko Has No Schematic Available) Funny how Anti Right to Repair Hakko Is See Schematic Request Notes Below Updated 08/09/21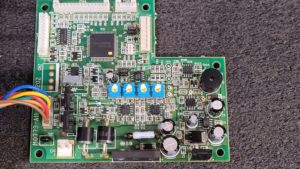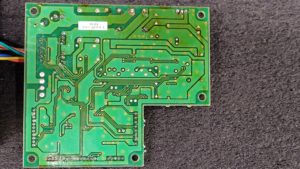 Hakko Soldering Station to Iron Compatibility Chart.

How to Disable the Hakko FM-202 Temperature Lockout Card
Hakko FM-202 Temperature Control Lock Out Card Bypass, Using My Simple No Solder Method there is No Removing the front cover and no Removal of LED4 as Hakko Recommends. My method is quick and simple literally takes longer to remove the screws then to do the modification and is easy for anyone to reverse if required!
My method for the Hakko FM-202 Card Bypass is to remove the top cover "8 Screws", Disconnect Connector CN4 from the PCB,  Slightly lift a little tab and Remove Terminal #3, Insulate the Removed Terminal, Plug CN4 back in and replace the top cover. That is It, You are Finished. This will cause the temperature controller to permanently read as through a key card has been inserted and allow the temperature to be changed. To Change the temp Press and hold the * button for a couple seconds Once the FM-202 temperature display begins to blink  change the temperature as you normally would.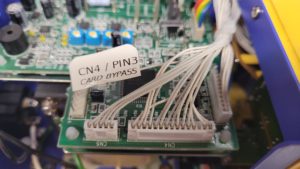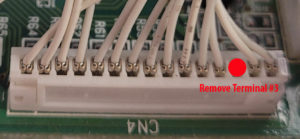 Operation Video

Hakko FM-202 Sure has a Lot going on For a Soldering Station?
Compared to the Modern Hakko FX-951 M0983-A117 PCB look at that Tiny Renesas R5F21276NFP (Data Sheet) and Uses a 2SJ534 Mosfet (Data Sheet) And a 2SC4549 (Data Sheet)
Yes, That is Heat Shrink Over the Lock Out Sensor So No Control Card B2972 Is Needed! Just Press and Hold * and all functions will work. Hakko has a Nice Write Up On This.  How to Disable the Hakko FX-951 Temperature Lockout Card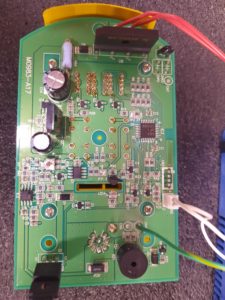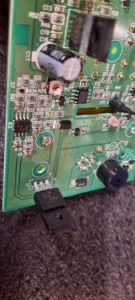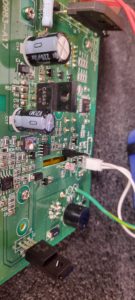 .
09/15/2022
I Attempted to back up the firmware of the FX-951 Hakko has set the protection and has locked the firmware. Without the proper ID Code in the Buffer there is no reading the chip. Since #Hakko will not release a compiled binary of the firmware if anyone gets a dead micro controller for any reason there is no way to recover and repair the device with out sending it to Hakko or buying a entire board.  If anyone has the code let me know. Would take a long tie to brute force it.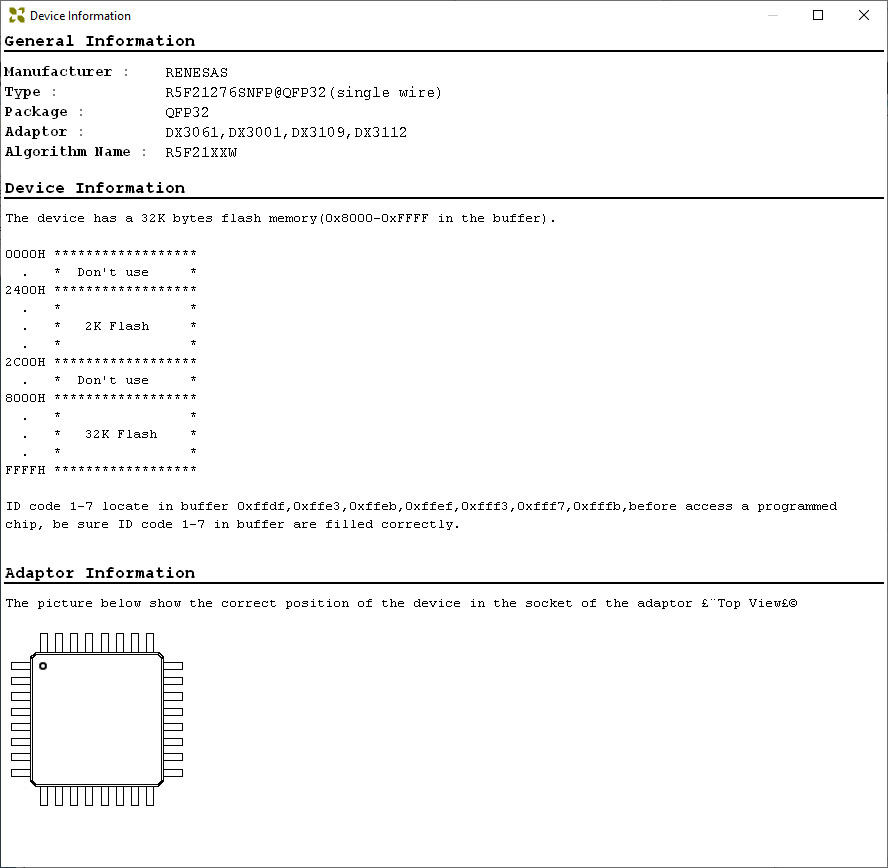 Notes:
Recommendation:
Yes, I do recommend Hakko Soldering Stations and Irons, They are a Great Value For the Money and they have great longevity. The FM-202 seems to be the best bang for the Buck as it can handle most all the irons Hakko makes and FX-951 will not.
Right to Repair Rating (D): (Click Images For Full E-mail) #RighttoRepair
Hakko's Corporate Anti Right to Repair Response When Requesting a Schematic? "In the case of our circuit design, it is still in use today and the schematic is used for engineering design and manufacturing but not for repair." LOL. Who Knew Schematics were not used for Repair JK.

Hakko USA did try and help.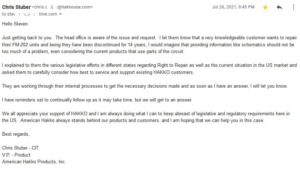 Conclusion of the Schematic Request. (Only If the Law Forces Us) That is Anti Repair! From a Repair Tool Company.


Ohh This Will Get Interesting.

#hakko, #solderingstation, #FX-971 #FM-202 #FX951 #hakkousa